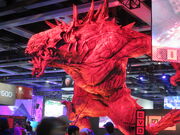 I went to Pax Prime 2014 and when I got the to main floor, I was greeted by this great big huge giant.......   thing...  monster...............  not sure what it was.  Turns out, it's Goliath! One of the monsters in the upcoming 4v1 game Evolve! Of course I had to go check out the gameplay. I have been keeping my eye on that game since that weekend and preordered when I had a chance to do so. Yesterday I got my key. Today, y'all better watch out, cause Goliath is IN THE HOUSE! From what I gathered from the feed, this will be our only chance to play before the end of the year, so if you haven't downloaded it yet, go do it. Next chance will be an XBox One beta in January of 2015. No word yet on beta coming for other platforms.
Last Friday, I had the opportunity to watch Evolve's Big Alpha Progression Preview and Livestream. For those of you who missed it, it is now available on their YouTube channel but I will include it here. You can watch Evolve's Livestream  every Friday afternoon at 3pm PT on Twitch  At the end the hosts answer a few questions regarding the Big Alpha including the best class to start with if you are new and the Progression systems. Check it out. See you in game!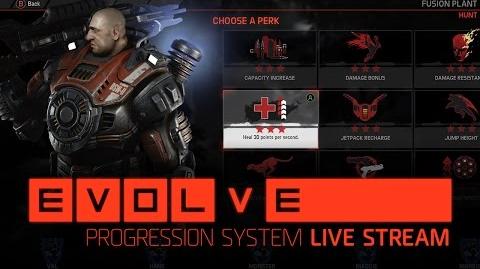 Ad blocker interference detected!
Wikia is a free-to-use site that makes money from advertising. We have a modified experience for viewers using ad blockers

Wikia is not accessible if you've made further modifications. Remove the custom ad blocker rule(s) and the page will load as expected.