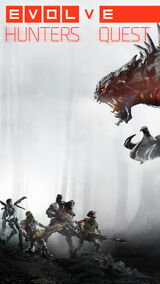 This week 2K reveals a new companion game for the 4v1 shooter Evolve . Evolve:Hunter's Quest is a Match-3 puzzle game similar in play to Bejeweled or Candy Crush but with a bit of a twist. Throughout the missions, players much match three tokens of the same color to unleash devistating attacks on their enemies. During gameplay results of your attacks are shown on screen above the gameboard in a graphical display of Monster vs Hunter. To activate the Hunter's special abilites, players will need to fill up energy bars. There is an energy bar for each type of Hunter . Medic, Assault, Support and Trapper. There are over 100 missions available and they all take place on the planet Shear . Players will earn Mastery Points to level up their characters. 
For players who purchase Evolve on PC or Console, the companion game allow players to unlock unique game art  and earn points to apply to their Evolve characters. For players on the console version of Evolve , they will be able to watch replays of their online multiplayer matches from a strategic top-down view.  Evolve: Hunters Quest was developed by Cat Daddy Games, a 2K studio, and is available for download for select smartphones and tablets from the App Store, Windows Store, Windows Phones Store, Google Play Store and Amazon Appstore.
Screenshots
Featured Video
---
---
Ad blocker interference detected!
Wikia is a free-to-use site that makes money from advertising. We have a modified experience for viewers using ad blockers

Wikia is not accessible if you've made further modifications. Remove the custom ad blocker rule(s) and the page will load as expected.