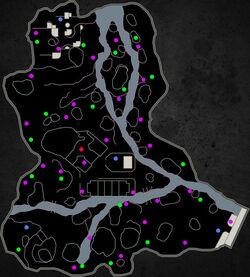 The Refueling Tower is the secondary rainforest map in Evolve on the planet Shear.
Modes - Hunt, Nest, Rescue, Arena
Environment
Edit
It has a bayou style and contains a junkyard, with flaming rubble scattered from the recent catastrophe. Many dead bodies lie in the center of the map, as permanent food for the monster. Homes around the tower are mostly unaffected -- abandoned, but intact -- and have become the grazing grounds for creatures. A river runs through the length of the map.
Maximum Elites: 6
Maximum
Harpy
Chance: 90%
Ad blocker interference detected!
Wikia is a free-to-use site that makes money from advertising. We have a modified experience for viewers using ad blockers

Wikia is not accessible if you've made further modifications. Remove the custom ad blocker rule(s) and the page will load as expected.