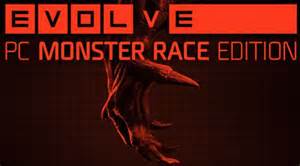 The PC Monster Race Edition includes Evolve, Evolve Hunting Season Pass, Evolve Monster Expansion Pack, a Fifth Playable Monster, Two Additional Hunters, and Four Monster Skins. The additional two hunters in Hunting Season 2 were added to the pack after release, meaning the Monster Race contains both Hunting Seasons, but not the Behemoth (a preorder bonus).
Availability
Edit
This edition of the game is $80 on Steam. Sale prices run at least as deep as 50%.
Ad blocker interference detected!
Wikia is a free-to-use site that makes money from advertising. We have a modified experience for viewers using ad blockers

Wikia is not accessible if you've made further modifications. Remove the custom ad blocker rule(s) and the page will load as expected.