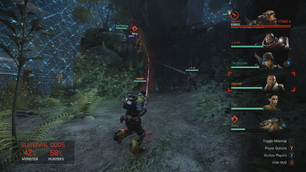 Observer mode allows the player to view games in progress in the perspective of the characters. Player rotate the camera to adjust their view and select which character they wish to view. Players have the option to leave the HUD on and view character health, progression, perks, timers, monster armor, monster energy and stage progression or turn it off completely.  
From the hunter view, the monster will be highlighted in red and visible across the map. This also applies to monster view, as the hunters are highlighted in red.  This feature can be turned on or off but allows the viewer to get a better idea of how the gameplay is going.  
A percentage ratio shows who is currently ahead in the game, the hunters or the monster.  
Ad blocker interference detected!
Wikia is a free-to-use site that makes money from advertising. We have a modified experience for viewers using ad blockers

Wikia is not accessible if you've made further modifications. Remove the custom ad blocker rule(s) and the page will load as expected.